Our Approach
01
Raise brand awareness with standout prints
As with any medium, imaginative, and powerful graphic design is key to providing the standout and recognition that will make your brand thrive.
Creative, well-targeted printed material will help people engage with your brand. Therefore, it's important that it looks professional and has a clear message.
Whatever sized businesses you have, overall we provide a consistently branded suite of stationery and brochures that people won't forget.
We work with a curated set of trusted print houses and can advise and provide samples of paper stocks and print finishes.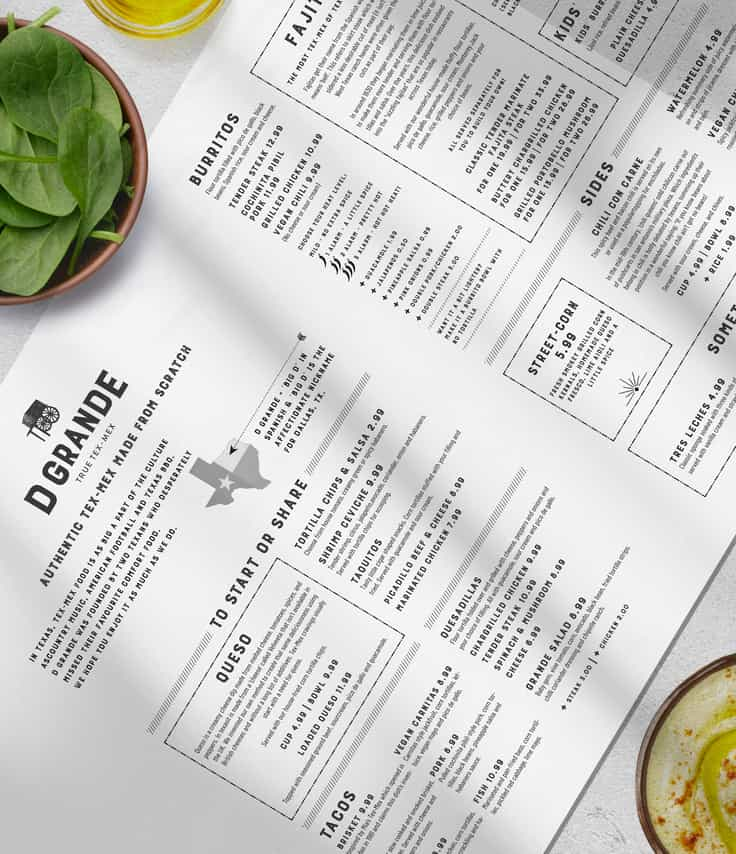 02
Graphic design services
Brochures
Our flexible brochure designs can fit any format and style.  Given that, our copywriting services effortlessly complement your visuals to drive sales.
Packaging
Using our 20 years of retail experience, we create bold designs that ensure your products stand out in-store.
Menus
We've worked with many clients in the hospitality sector and can create paper stocks and finishes that are ideal for restaurants.
Promotional Material
From large format point of sale to direct mail and flyers, we have vast experience in promotional materials of all sizes. In addition, we've also partnered with trusted printers who specialise in large format and volume print runs.
Signage
Our innovative signage for interior and exterior spaces engages your audience and provides clear messaging. What's more, we work with printers and installers to ensure our artwork fits their technical parameters.
Business cards
We can provide samples of special print finishes and paper stocks or simply produce basic artwork for online printing. In addition, our graphic design services can include uploading artwork files to online print companies if required.
Stationery
If you're a start-up, we can provide a complete set of beautifully designed stationery, allowing you to establish your offline identity. As well as that, we can also supply digital letterheads and invoices for use on computers, laptops and tablets.
Exhibition stands & banners
Show your clients you mean business with our large format design for exhibition stands and banners. We often work to specifications directly supplied by venues for complete professionalism. For more flexibility, we also design pull-up banners and posters.
Van wraps
Transform your vehicle and advertise your business on the road with our distinctive graphics for vinyl wraps. And for ultimate convenience, we can work with your chosen vehicle wrapping company.
Our wide range of graphic design services perfectly sets your business up so you can showcase your brand anywhere.
Got a specific brief in mind? Chat to our friendly team today and we'll discuss what services will fit your precise needs.
Fantastic service from these guys. They have a brilliant work ethic, they are punctual, honest and I have loved working with them. I cannot recommend them enough as a business.
Dr Rupy Aujla // The Doctor's Kitchen
05
Are you ready for creative graphic design that will set you apart?
If you have a design project in mind, we'd love to speak to you.
The Union 10 team loves creating beautiful, inspiring design for print. Let us give your business print to be proud of!
Get in touch today and we'll explain how our graphic design services will differentiate your business from the crowd.