What online restaurant reservation system should I use?
What online restaurant reservation system should I use? is a query I often get from restaurant owners. There are so many factors to consider when choosing an online booking system and there are so many options out there. You could pay a web developer to build a bespoke system for your individual restaurant or buy an off-the-shelf booking system. I usually ask the client the following questions to determine the appropriate booking system they should use.
What is your budget?
1. A simple enquiry form on your website would be the cheapest option here, but it's the clumsy way to do it. You would have the time-hungry task of manually replying to everyone's booking emails, but in the new technical age customers are used to instant replies and will look elsewhere.
2. Build your own bespoke online restaurant reservation system. This would allow you to tailor it to your brand and work the exactly the way you want. But the problems with this option is that it's expensive, time consuming to setup as there is a big learning curve and you also have the responsibility of fixing technical problems when they arise — and they will!
3. Buying an off-the-shelf online restaurant reservation system is the road that most restaurant owners go down, and it's often the best. These systems can be a quick and relative cheap way (depending on features) for your customers to book tables in your restaurant. They are built by experts, who have spent a lot of money in developing a booking system experience for restaurant customers. They deal with the technology, training, support, software updates and much, much more, removing all the hassle for you. Prices can be a monthly fee, fee for every cover, or both.
These off-the-shelf booking systems are not just a simple way for customers to book a table at your restaurant, they offer powerful tools to run your whole restaurant business. They can provide table management, online reservations, marketing, shift planning, as well as increasing exposure to your restaurant through third party Apps and related Websites.
What features do you need?
Listed below are some of the features you could have on your booking system. It's always worth considering the time can save making use of certain features. Some tasks can be very time consuming and could be a staff member's full time job, so to automate it makes sense.
1. Online booking form. Do they offer easy widget integration? Can you customise look of the booking form to fit the style if your brand? Can customers see real-time availability and options? Are bookings automatically entered into your booking diary saving you time and can deposits be taken when large parties are booking. Some systems also allow you to integrate with Facebook.
2. Table Management. Create customised seating plans base on your restaurant's layout. This helps to maximise time and efficiency of tables within your restaurant, calculate which are the best spots for you to use for walk-ins and shows each table's status.
3. Analytics. Knowing stats about cover turnaround times, busy periods of day and month, trends and where bookings come from can help you streamline your service and let you know when the best time is to run promotions to exploit quiet periods. If you have several restaurant locations, it's easy to monitor and see how each of them is performing from your head office location.
4. Marketing. Every customer booking gives you an opportunity to us powerful marketing tools within these systems. At a touch of a button you can easily send out 1000's of bespoke newsletters to promote events, drum up business in quiet times of the day, or even target customers who have a special birthday coming up. Creating a good relationship with switched-on customers is vital to getting them to come back again and again.
5. Gift cards. You may not have a shop on your website and so miss out on the opportunity to sell gift cards, which can be a lucrative revenue stream. See if they offer it as a feature, but be aware of the commission they will take for each gift card sold.
6. Customer Data. Having a large database of customers is vital, giving an opportunity to send out a campaign about upcoming events and promotions, so always find out if you can export your customer's data in case you move to a rival system. Also check if you do move systems you can import that data. Make sure you have a back-up copy and own that customer's database.
7. In the Cloud. Is their CRM (Customer relationship management) system in the cloud or do you need their software installed on computer in the restaurant? The advantages of the cloud are too good to ignore. The flexibility of working from anywhere, as it can be accessed in the browser or apps from any computer, tablet or phone rather than one fixed computer in the office. You get automatic updates to the software with new features and cuts out the high cost of hardware. Also, great disaster recovery tools protect a business IT infrastructure in the event of a disaster. The only downside is you do need a good internet connection.
8. Increase exposure. Extra revenue streams can be found outside of your website. Some providers advertise your restaurant on their App (OpenTable) or Website (Design My Night). So, when customers are looking for restaurants near them on these platforms your restaurant, along with others, come up, leading to extra business you would have missed out on. But beware: bookings taken through these apps can cost you more per cover.
I have not covered all features, but you can see there is a lot that can be done to help you run your restaurant efficiently. Get in touch if you would like to find out more.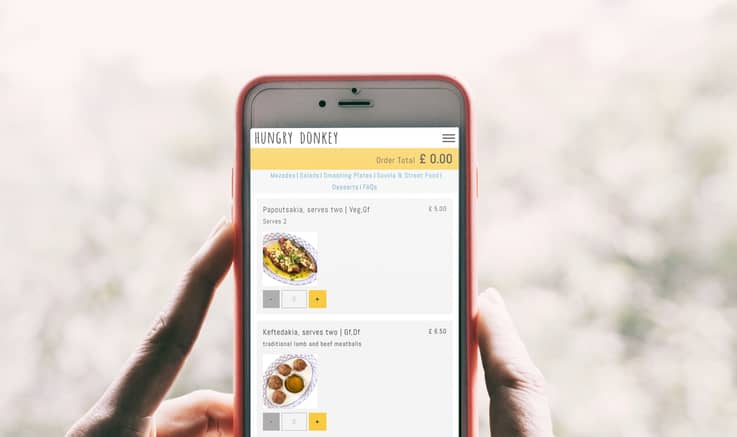 Our experience with online booking systems
There are so many restaurant booking systems out there, I cannot possibly name and review them all. It is an ever-changing area as they all battle for market share. These are the ones we have used.
Open Table
We used Open Table with The Birch Woburn and The Black Horse and found it easy to implement on the site. Open Table are market leaders and have every feature you could want. Increased exposure by appearing on their app and website. However, the client ended up moving over to ResDiary due to them having a monthly fee as well as an additional fee for every cover.
Pros
• All the features you could ever need
• Market leaders with the most experience
• Increased exposure on app, website, Facebook and Instagram
• In the cloud
Cons
• Expensive with monthly fee and fee for every cover
• Booking widget not customisable to match your brand
ResDiary
We have used ResDiary for several clients now, The Birch Woburn and The Hungry Donkey just a few of them.
Pros
• Table management
• Increased exposure on their website
• In the cloud
• Booking widget customisable to match your brand, but with limitations
• Reasonably priced with just a monthly fee
• Great support
Cons
• Not as many features as Open Table
• Their Gift card option is not that great
Design my Night
Pros
• You can get loads of detail about customers for marketing activity
• Regular software updates
• Increased exposure on their website, this is a well visited site by thousands of people, due to the site being a hub for events. This can really help with increased sales.
• They are very proactive on their social media in promoting your social media posts and restaurant.
• Very willing to develop new features and work with you to integrate with other systems
• In the cloud
• Booking widget customisable to match your brand
Cons
• Not as many features as Open Table
• Cannot link with Instagram
• There can be a steep learning curve to their system, so extra training may be required.
So there is my roundup on some of the restaurant booking systems we have used when developing websites for our clients, with some points to think about. Have a look at Best practice for restaurant website design to see if you're doing all the things you need to maximise engagement on your website.