# Restaurant website development
Hungry Donkey
Simple, delicious, Greek street food.
We were approached by Hungry Donkey Greek Kitchen after they had seen our restaurant website development for Rosa's Thai Café. Their old website had limited pages and functionality with no online menus. They wanted a redesign from the ground up to create a more engaging, user friendly, imaginative site. We were happy to help.
The Hungry Donkey brand with its cartoon donkey and quirky font, set the scene for a fun and creative project. Coupling this with their vibrant, colourful food, we had all the assets to develop a mouth-watering website.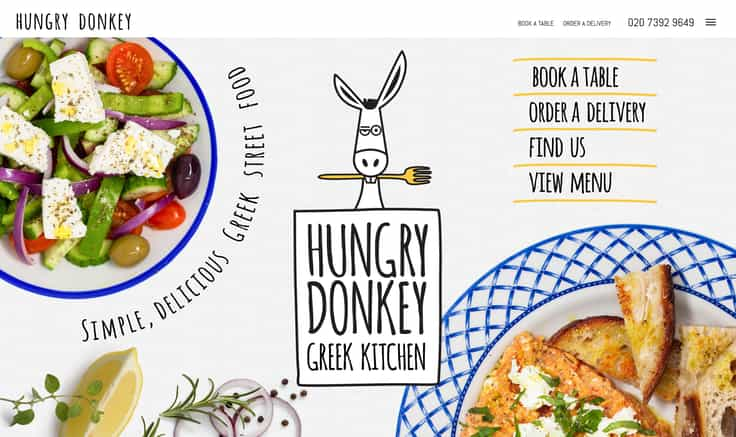 As a business, Hungry Donkey wanted the new site to clearly show their offering extended from restaurant dining, to delivery, to events & catering. Their footfall included lunchtime office trade and corporate delivery, as well as people looking to relax and unwind after-work. Fundamental to their business was their commitment to producing authentic Greek food. So communicating these core messages and show casing their menus was key.
Our first job was the think about the site's structure. User experience for restaurant website development involves understanding how a consumer will use the site. They might be on foot in the city looking for a restaurant close by, searching for a take-away, looking to book a corporate function for work. Each of these tasks might favor mobile usage or a desktop computer, so ensuring the site worked equally well on mobile, tablet and desktop was vital, and this is core to a site's structure.
One of our client's wishes was to animate the donkey, so we gave him a turn of the ear and a wink.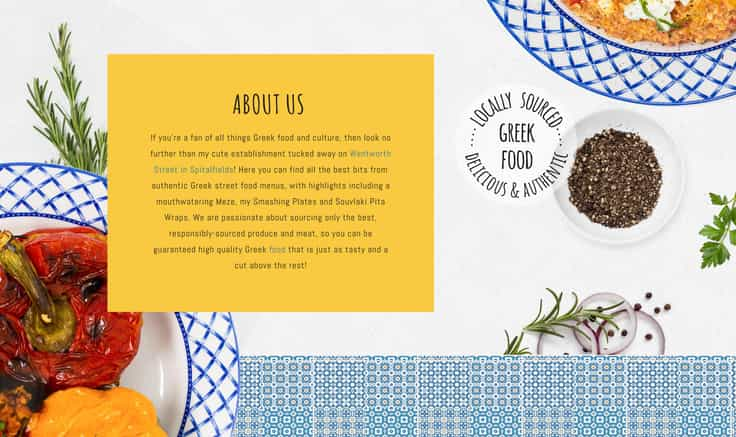 What our client said
Union 10 have been a pleasure to work with. On point with clearly communicated steps and deliverables, they have been very empathetic with our brand and project, and this shows in the end result. We continue working with them in more disciplines as a result of their approach and quality of work.
Markos, MD Hungry Donkey
03
Restaurant website development
We implemented the ResDiary booking widget, allowing customers easily book a table form their mobile, tablet or desktop. Having a booking system is crucial for restaurants to gain business. See our post about what online booking systems you could use for your website to learn more.
We also helped recommend a gift card system with vouchercart, and setting up MailChimp mailing lists. Digital marketing is always important to keep connected with customers, letting them know about special offers and driving in customers at quiet times.
With all of our restaurant websites, we create a flexible menu template allowing the client to add menus to the site with ease. This means they can quickly make changes themselves without paying out for developer time. This is not just a basic list, but a clearly laid out page, in keeping with their brand.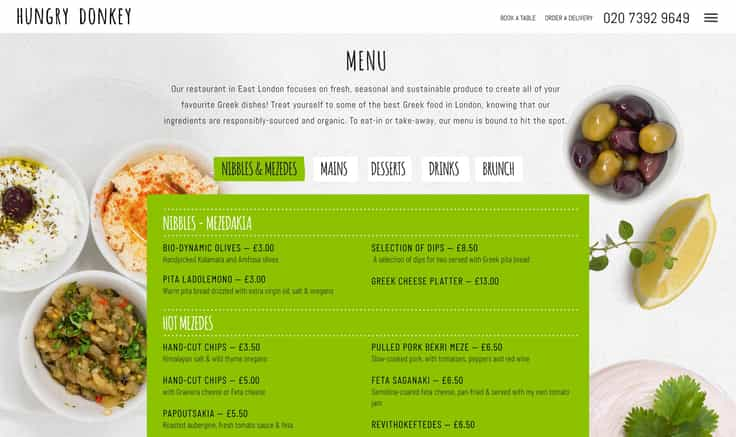 04
Support and maintenance
As with all our clients, we gave Hungry Donkey training on how to use the site and optimize pages (SEO). We also provide hosting for the site. Contact us if you are interested in our hosting packages.
Following the website launch, we have gone on to redesign the menus for Hungry Donkey, which we'll update you with soon. We have extensive experience within this field from our work with McMullen.
---
Date Completed // January 2019
---