# Best architecture websites
Ad Architects
The full monty: a fresh identity across digital and print
AD Architects is an established practice with a strong reputation for creating timeless, durable buildings in a variety of sectors.
Inspired by some of the world's best architecture websites we delivered a series of projects to showcase AD's stunning projects to their full potential.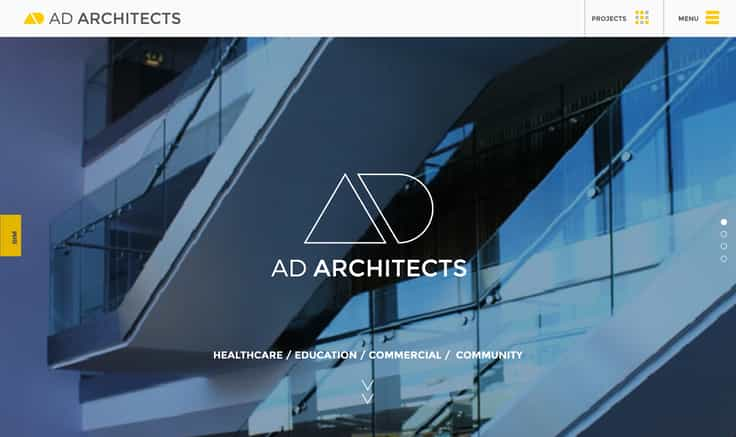 With a relaunch event for AD Architects planned, our process began with a complete brand refresh. As architects, the AD team were keen to be involved in our design process and we forged a productive partnership from day one.
We created a bold and precise logo design – using clean lines to reflect AD's architectural style. By experimenting with the use of 'A' and 'D', we created to a modern, minimalist shape for the logo that would work well in all contexts.
Keeping the colour palette of AD's existing brand, we deepened the yellow to ensure it would stand out in print. For the main typography, we selected Montserrat – a clean, unfussy font that could be used across digital and print.
Brand guidelines were provided to deliver consistency, with a view to building brand recognition over time.
AD invited us to transform their old website. They wanted to compete with the best architecture websites around and needed a user-friendly way of managing their content.
Through our work with other architectural clients, such as LOM, we understood exactly how to showcase AD's impressive projects, in order to position them at the forefront of their field.
We developed a web design with real visual impact and functionality to highlight AD's vast experience across multiple sectors. Using a modular, uncluttered design, we created clearly defined sections and navigation that encourages users to focus on the stunning project imagery.
By building the site in WordPress, we provided AD with a long-term solution to managing their content with ease.
Streamlining the Content Management System to meet AD's needs ensured that they can quickly and simply add future projects, to keep their site fresh and engaging.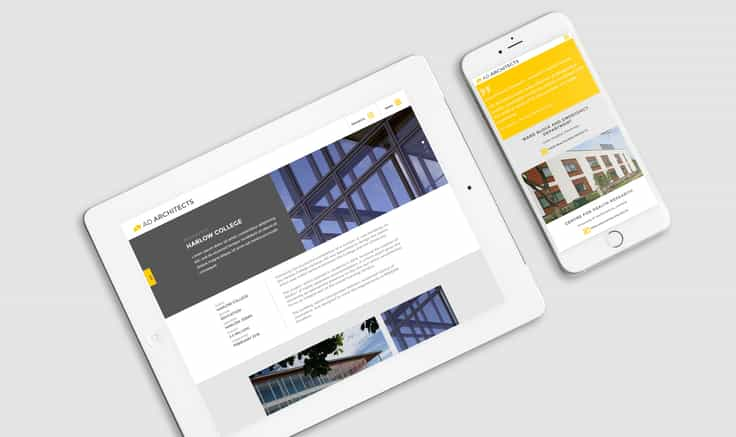 The best architecture websites quickly offer potential clients an insight into the values, strengths and experience that a practice offers. AD particularly wanted to convey how they work collaboratively with their clients and the long-term value they add.
Working with the AD team, our copywriter defined what sets their practice apart, to create content that emphasised their strengths, in a succinct, accessible way.
Beyond the website, we worked across a number of formats to ensure AD's new branding was consistently in place for their relaunch.
This included creating branded PowerPoint files, proposal templates, letterhead and other business stationery. For the branded documents that would be used in-house, we set up templates and clear guidance to ensure they were used consistently over time.
---
Date Completed // February 2016
---