# Startup branding, website design for new business
Cupboard Love
A recipe for success: all the right ingredients to launch a new business in style
Cupboard Love is a startup company, created by Dr. Andrea Oskis, which is a unique fusion of her passions for the healing properties of good therapy and great food. As a psychotherapist, Andrea believes that the ingredients found in therapy – hope, comfort and connection – are also found in food (from cooking to eating). She understands that healthy relationships are just as important to our mental and physical wellbeing as a good diet.
Andrea approached us with a brief to develop her startup branding and a new website to launch Cupboard Love. She wanted a site that not only promoted her private therapy practice, specialising in Attachment Therapy, but also served as a blog-style site where she could share reflections, recipes and life lessons inspired by her therapy work.
Starting with a blank canvas is always a dream for us, when working with startups. We know that creating a distinct, coherent brand identity will define the complete look and feel of a business and will have a hugely positive influence on how people feel about a business.
We explored a number of working titles, such as Recipe Therapy and Gastro Therapy, before finally agreeing on the name 'Cupboard Love'. This was one of the first theories explaining why we make relationships with each other, and suggests a powerful role for food in relationships. It was perfect for Andrea's vision, connecting her work in attachment-based therapy with her passion for the nourishing properties of food.
The next step was to explore brand concepts that conveyed this connection between relationship therapy and food. The design direction focused on handwritten-style fonts, watercolour imagery and a soft colour palette. It needed to be non-corporate, personal, and to capture Andrea's warm-hearted and caring nature. It was important to create the feeling of a warm, welcoming and trusted space, reflecting the one-to-one relationships established between Andrea and her clients.
The final concept for the logo design is an olive branch – a symbol of peace, harmony and hope – which communicates Andrea's philosophy beautifully. Using the logo as a starting point, we were able to develop a wider brand identity using the same colour palette, fonts and imagery, that could be implemented across the website. We understand that how you visually present your business makes one of the biggest impacts on success these days. We wanted to ensure we created a bespoke visual identity that is appealing, recognisable and speaks to Cupboard Love's target audience.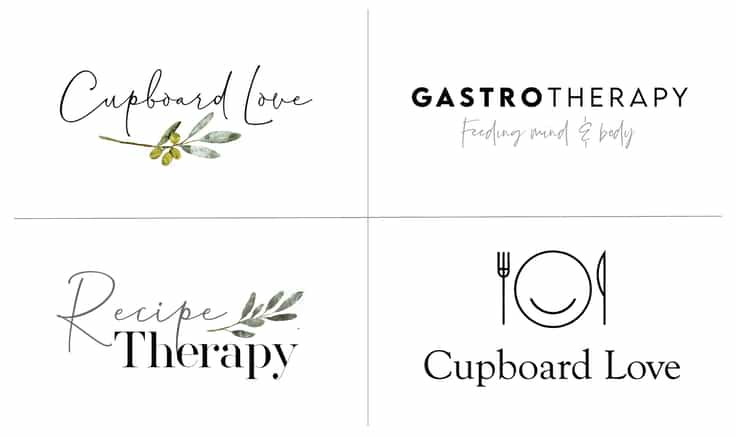 What our client said
I couldn't have asked for more in working with Union 10. At every single stage, from the initial email exchange to the website launch, James and Jane have been personable and professional, and generous with their time and listening. I have been impressed with so much of their ethos, but first and foremost how they always responded quickly to any questions I had – no ask was too big.
Andrea Oskis // Cupboard Love
We provided a series of website design concepts, informed by the brand identity, to build a consistent, recognisable brand for Cupboard Love. We wanted to create a look and feel that was deliberately clean and simple, offering a soothing, balanced and harmonious environment for Andrea's clients to explore her engaging site content.
During this process we researched and referenced other therapists as well as food bloggers, as the site needed to be a combination of both. Andrea particularly liked a site we created for The Doctor's Kitchen, so we were able to incorporate key elements from there, particularly in the recipe section.
We developed the chosen design concept into a complete 'look and feel', ensuring the core content elements (therapy services, recipes and blog) were separate yet cohesive. We also commissioned an illustrator to create a series of watercolour images to use across the site, which help to bring a softness to the design and enhance the sense of peace and calm.
We understand that website design is not just about visual appearance, it also requires a strategic use of design to make the site user-friendly and easy to navigate. This site ticks all the design boxes, and enables a meaningful and personal interaction between Andrea and her target audience.
In building the site, we were aware that the blog had particular importance, not only as a place for Andrea to connect personally with her audience, but also for the SEO benefits. We were able to customise WordPress to ensure adding fresh content, on a regular basis, is simple and quick. This content can then be easily shared across Andrea's social media platforms.
The recipe section was also a win from an SEO perspective, as it meant we could add Schema mark-up to the recipes. This way of signposting content in a structured way, allows search engines to better understand the site content and helps it to rank higher in searches. It also increases the chances of showing rich snippets for Cupboard Love, increasing the click through rate.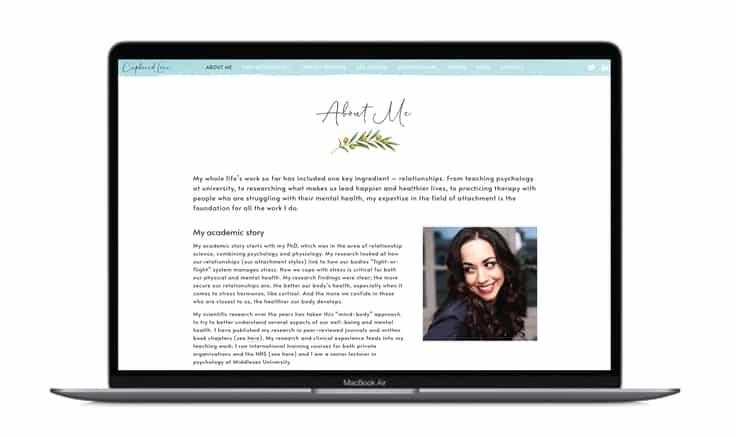 05
Support and Maintenance
As with all our clients, we gave Andrea the WordPress training she needed to be able to confidently add blogs and manage other content areas on the site. We also provide hosting for the site and deliver ongoing support and maintenance, to ensure performance levels remain high. Contact us if you are interested in our branding, website design and development – or any of the other services we provide.
---
Date Completed // September 2020
---