Eatalia Vostra
A fresh start: restaurant and delicatessen launches in style
Eatalia Vostra is a restaurant and delicatessen which brings a true taste of Italy to Essex.
Our brief was to create a 'stand-out' restaurant logo and wider brand identity, that would capture the authenticity and quality of this new business – setting it apart in a competitive market.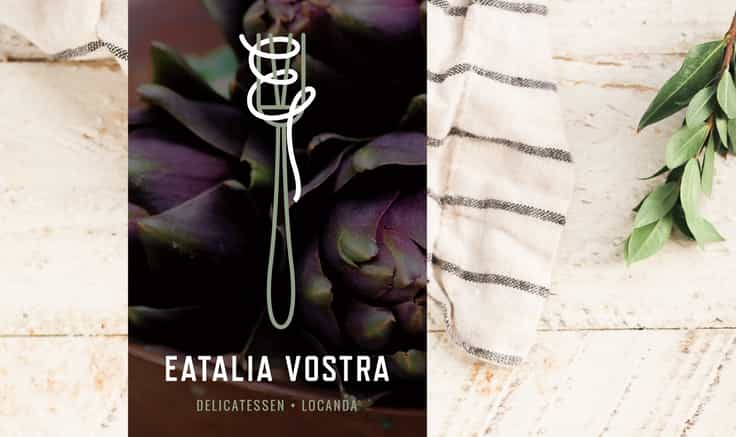 Working with the client, we opted to incorporate illustration in the brand identity. Our final option brought originality to their restaurant logo – as well as spaghetti!
We created an illustration that incorporates spaghetti shaped to form a letter 'E' entwined around a 'V' shaped fork. The client loved this approach and we paired the illustration with a plainer, bold typographic style to complete the logo design.
Inspired by the rich, classic tones of the restaurant interior, we developed a colour palette matched to specific Farrow & Ball shades. Using these shades, we instantly captured the sense of quality that's central to Eatalia Vostra's brand.
When developing logo designs, we always consider every possible usage and future application. We ensure the final design will work in both small and large formats, as well as in full-colour or mono-chrome.
We applied Eatalia Vostra's new brand identity across a range of items – from menu designs and point of sale items, through to business stationery, large format window vinyls and packaging design.
With a business launch rapidly approaching, we worked to tight deadlines to ensure that everything was perfect when Eatalia Vostra finally opened its doors to customers.
Our work with Eatalia Vostra is a great example how we support start-up businesses. It also highlights our experience in food and beverage design – which includes menu design and restaurant website design, packaging and lifestyle website design projects.
---
Date Completed // April 2016
---