# Restaurant Brands Design
McMullen branding
Building brands: creating brand identities with character and warmth
Working closely with McMullen, a well-known heritage brewery with over 180 bars and restaurants, we've created a collection of welcoming restaurant brands.
Each brand identity evolved from our understanding of the individual business. Designs reflect each setting's history and interior design, as well as the overall atmosphere and customer experience.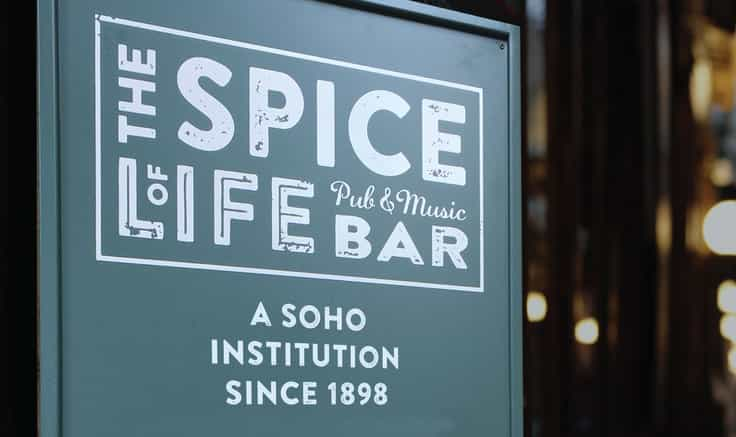 We've created restaurant brands for a variety of McMullen restaurants and bars – each with a distinct character and story to tell.
The Bootmaker brings the story of Emanuel Wybrow's Bootmaker shop back to life. The venue's interior is designed to evoke the history of Wybrow's thriving 19th Century boot-making business.
Building on the interior designer's creative vision, we developed a restaurant brand identity which includes a logo and menu designs. We drew on the Bootmaker's story – creating a design that uses traditional tools to create a vintage look and feel.
An ornate logo font and design provides another nod to the craft element of the story, whilst a simpler font convey information with clarity.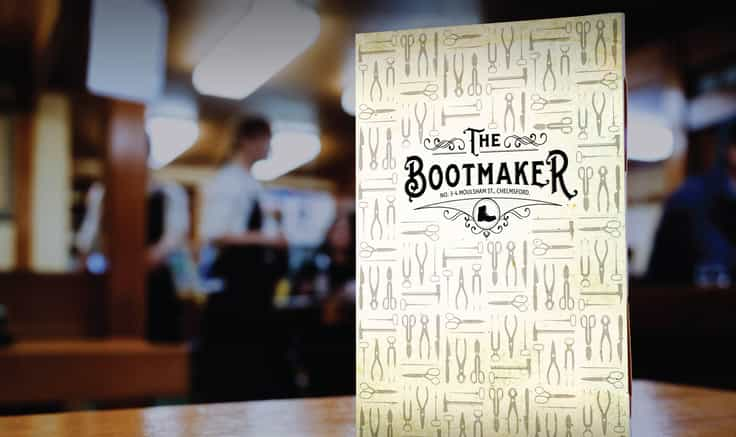 The Spice of Life began its story in 1750. In more recent times, this historic Soho venue has built a rich musical heritage: hosting Dylan, Paul Simon, The Sex Pistols, Jamie Cullum and more.
We created a fresh restaurant brand identity using bold typography and a distressed effect. Our design blends the history of the setting with its modern-day role as a bustling hub of culture in the heart of Soho, London.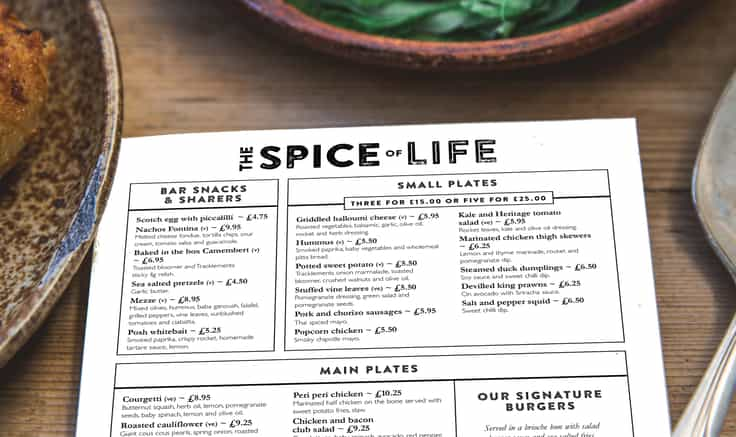 In the 15th Century, The Peahen opened its doors to weary travelers taking the new London Road through St Albans.
Working with McMullen, we re-worked the existing Peahen brand identity, bringing it up-to-date to reflect its newly refurbished, classical setting.
We created a logo and restaurant menus. The new logo design uses an elegant bold script balanced with a simple, fine font. We also created a silhouetted peahen illustration, to provide a bold central icon that's ideal for use across a range of marketing materials.