# Japanese restaurant website design
Kibou
Inspiring Japanese restaurant website design, delivering a sumptuous, engaging user experience that is technically on point.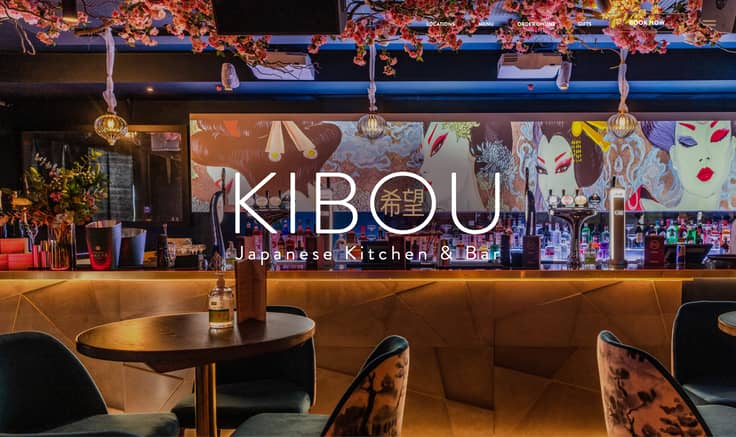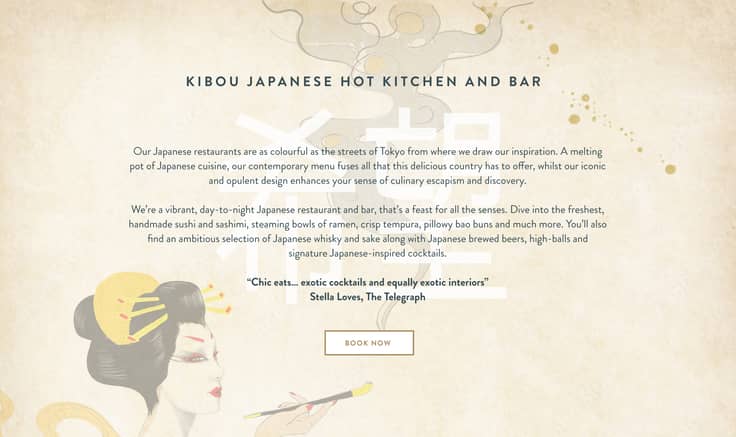 KIBOU began in Cheltenham as a small basement restaurant with seating for just 24 guests. When they were founded in 2013, they were one of the very few Japanese restaurants operating in the Cotswolds. And very soon, KIBOU sought to expand to new locations.
As of 2022, KIBOU restaurants can be found in Cheltenham, Battersea, Clifton, and Solihull. While each location is as distinct as its locale, the unique KIBOU experience and love for Japanese food and drink are what unites them.
KIBOU has a growing portfolio of restaurants across the UK, and, as such, they needed a website to support this growth, while better representing their unique brand. They also wanted a functional and informative website, helping customers easily book tables and access menus online.
What sets KIBOU apart is their authentic food, passion, and vibrant décor centred around the striking illustrations of artist Martyna Sabadasz.
A website must always stay true to a business' identity, which is why we always consider our clients' brand, values, and story before crafting a website.
In fact, our initial briefing meeting was held at one of the KIBOU venues. Experiencing first-hand the meticulously designed interiors and mouth-watering food was vital in helping us understand who they are and what they stand for.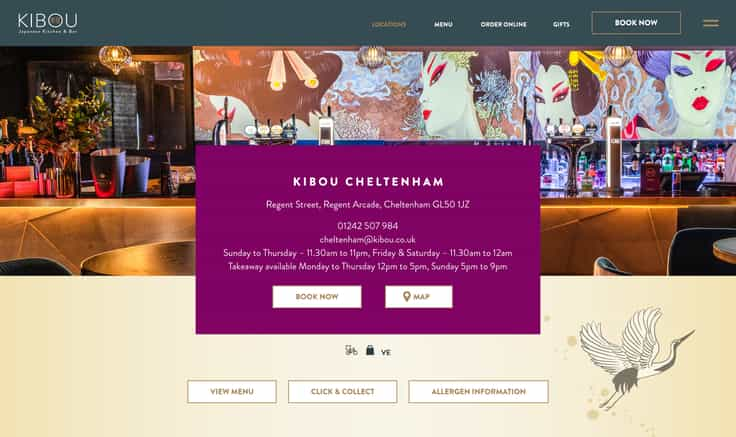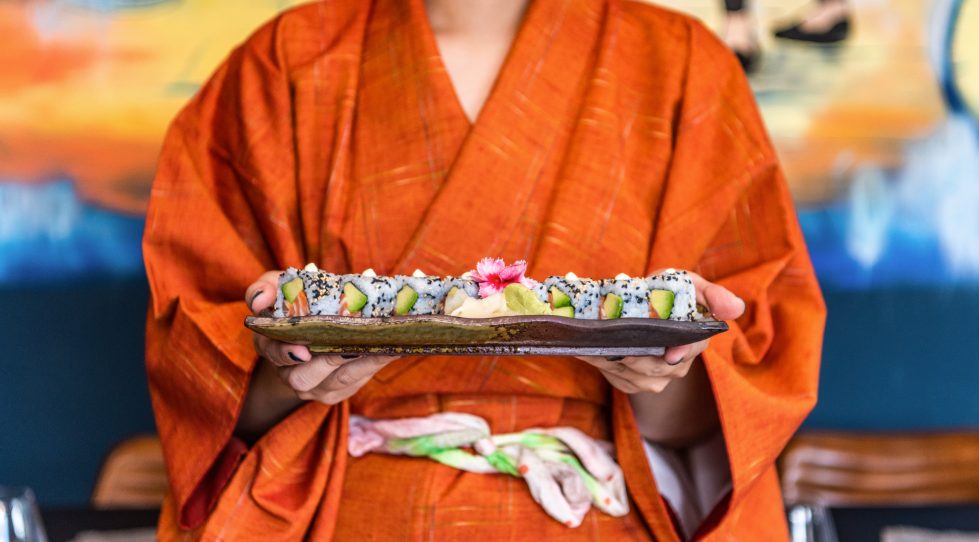 Ultimately, a website needs to convert. A lovely-looking website is great, but if people aren't booking tables, then what's the point? The importance of user experience and functionality can't be understated.
Our research shows that a "mobile-first" approach has several benefits, including search engine optimisation (SEO). However, it is also practical, as many customers access the website on-the-go.
We placed particular attention to where the CTA buttons would be placed. It was important that users could easily navigate the website to book a table, find menus, etc.
Using wireframing and mood boards, we showed the client the basic interface elements of the website and planned design direction before moving on to the design stage.
At Union 10 Design, we have extensive experience in restaurant website design. This experience allows us to design a website that meets each client's needs head-on, all while showcasing what makes them unique.
We used Japanese iconography and the in-restaurant artwork of Martyna Sabadasz extensively. These were applied to walls and as projected videos. We modified images into gif files with small movements to create a kinetic feel. The homepage features moving pipe smoke and a set of eyes at the bottom, which were kept small to keep website speed high and not upset other core web vitals.
The homepage features a video showing delicious food, happy customers, and celebrates the gorgeous interior (photos by Nic Crilly-Hargrace).  The client also asked that each location page replicated their respective identities. This is reflected in the illustrations and imagery.
The interior of each KIBOU restaurant is incredibly striking. We wanted to utilise this to full effect and create the same wow-factor experienced when entering one of these beautiful restaurants.
As mentioned above, we used a mobile-first approach, while ensuring other technical aspects such as Google Core Web Vitals, SEO, and Schema Markup were given due consideration too. After all, a great website is useless if nobody sees it! It should also be noted that we provide ranking keywords and offer SEO training to clients, helping them adapt according to industry changes.
We added several other "must-haves" which no restaurant website should be without. Although available in PDF, the menu is on-site. This means it can be easily updated by the client and is searchable on Google. This also optimises the site for mobile. To make things easier for the customer, the menus can be easily filtered by location, dietary requirements, and calories per dish – now a legal requirement.
While we built most of the website ourselves, we used certain third-party systems. This saves the client time and money. For example, the table booking system was Design My Night and the site contact forms and newsletter signup were integrated with AirShip, KIBOU's hospitality CRM marketing system. This saves the customer time and ensures that all their data is in one place.
One thing the client was sure to include in the brief was an effective Careers page. Finding staff in the hospitality industry is a struggle at best, so we made sure this was eye-catching.
Throughout our 20+ years in business, we have worked extensively within the restaurant industry. Whether it's branding design, web design, SEO, menu design, business stationery, or packaging, our approach is always bespoke. Each client will receive a tailor-made package that is catered to their needs.
Contact us today to get a free quote and discover how we can help your business to grow.
---
Date Completed // June 2022
---