# Beautiful restaurant website design
The Birch
The full service: restaurant branding, digital and print work
Our key challenge was to create a restaurant website design, to launch a refreshed brand identity for The Birch Woburn, Buckinghamshire.
We also expanded this brand to a suite of marketing materials – including menu designs, business stationery and point of sale items – creating a new look and feel, that appeals to a broad customer base.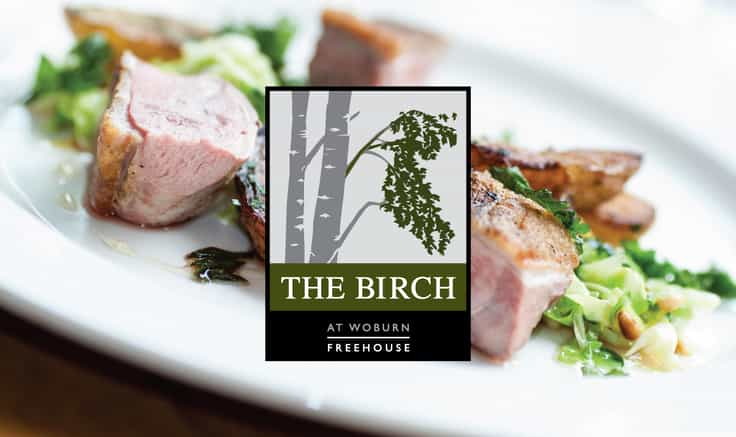 Working with The Birch team, we developed a fresh brand identity, including brand guidelines and a new logo design. The logo uses a striking, yet simple image of a silver birch tree.
A warm, bold colour palette reflects the classic charm of the setting, and the contemporary style conveys the modern interior, which is all about quality and style.
A variety of point-of-sale designs, as well as business stationery followed on, to ensure The Birch's new identity created a strong and consistent impression.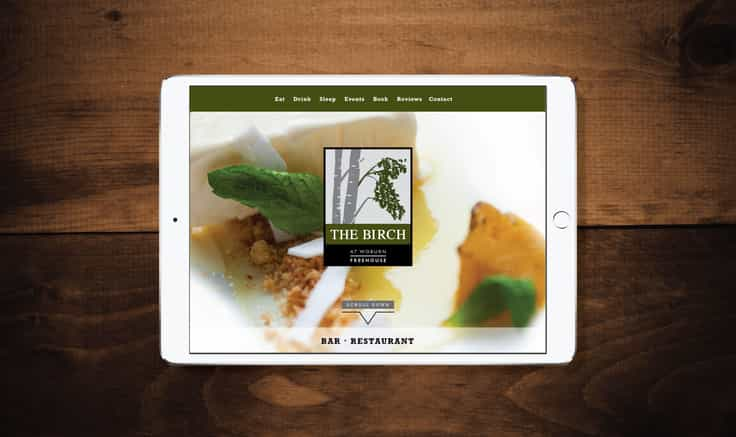 A key aspect of the brief was to create a fresh restaurant website design for The Birch, which highlighted their attention to detail and passion for exceptional customer service.
A professional photo shoot captured key aspects of the business, from the beautiful interior through to the food and beverages on offer – as well as the friendly team.
We managed this process to ensure everything we needed to develop an effective new website was captured to a high standard.
All our WordPress websites use responsive design and this was particularly important for this restaurant website design. For The Birch, it was crucial that customers could browse menus quickly – particularly using mobile devices, and the booking system had to be super intuitive.
We integrated WordPress with ResDiary – a third-party, specialist booking system for restaurants. This real-time system manages all bookings and cancellations efficiently, freeing up The Birch team to focus on face-to-face customer care.
We included an e-Commerce element, allowing users to purchase gift vouchers online. This also saves valuable staff-time by automating the process and taking payment automatically.
We tailored the WordPress CMS to ensureThe Birch team could quickly and easily update their content, menus, events and images.
The client was particularly pleased with our menu builder feature, which allows them regularly change menu content – without the cost of using a designer to edit menu PDFs.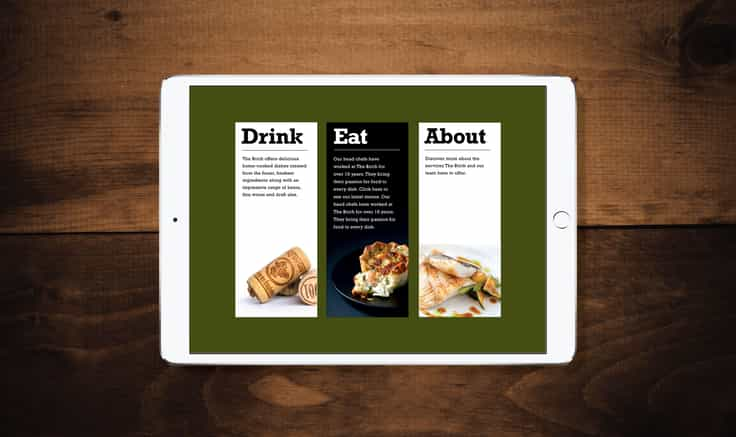 Once the site was ready for launch, we provided The Birch team with WordPress training on managing their website effectively in the future.
This project drew on our experience in delivering restaurant website designs that are creative and technically accomplished, as well as our ability to create strong brand identities and print designs for the food and beverage industry.
Following the success of this project, we worked with The Black Horse – sister company to The Birch – to create a new website.
From inspiring start-ups such as Eatalia Vostra or fast-growing brands like Rosa's Thai Café to established names such as McMullen and Savour Beer – we love producing design work for this fast-moving, creative industry.
---
Date Completed // August, 2015
---